Are you ready to start your own swimwear line? But don't know where to start? I am here to help. While RUNNI offers full package swimwear manufacturing services, I wanted to make this DIY manufacturing swimwear guide for anyone looking for a little free professional help.
Swimwear Manufacturers Are Special
---
Here are 3 reasons why you need a special swimwear manufacturer, and shouldn't trust just anyone with your swimwear line.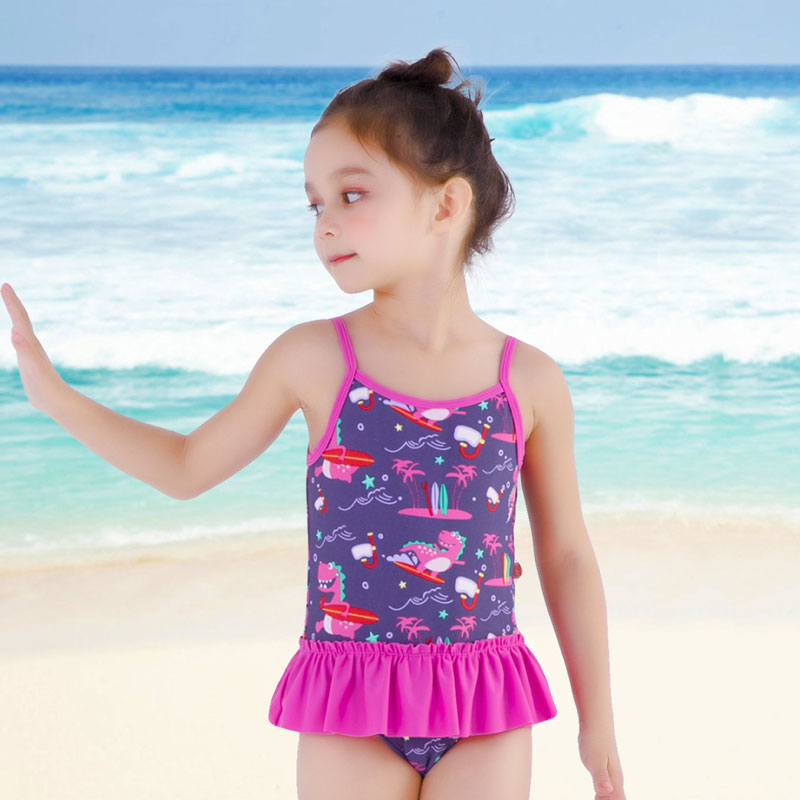 Classic girly U-shaped dinosaurs printing swimsuit
1. Swimsuits need to use an overlock machine
A seam made with an overlock machine has a very distinct look. If you don't know what I am talking about, you can usually find an overlock seam at the bottom hem of most t-shirts, and other knit fabric garments. The stitch looks like a zig-zag of 3 to 4 different threads looping back and forth.
Overlock seams are perfect for knits because it's a type of seam that allows a lot of stretch. Stretch is important in swimwear because swimsuits should be snug and secure yet comfortable and moveable with the body, like a second skin. If you try to sew swim with a regular sewing machine the seams will burst when a person tries to move.
It is also important to keep an eye on the tensions the machines are set to. Tension is how tight the stitches are. If they are too loose or too tight your garment could fall apart or have a wavy effect that looks so sloppy. A professional swimwear manufacturing partner will have the right machines and know-how to use them to create the best product for you.
2. Expert pattern making
Especially when you are starting out, you want to work with a swimwear manufacture that specializes in what it is that you are making. This is important because it will allow you to lean on them, and learn from them. If you aren't an expert yourself, you want to make sure you are working with one.
By choosing a supplier that specializes in only swim, it means they have done these types of styles thousands of times before - so they are really good at it. They can also probably do your tech packs for you instead of having to hire someone else to do them.
Think about it. Would you want to be operated on by a surgeon who had only done a few surgeries in their life, or someone that had done thousands? Obviously thousands. Because, generally, the more people do something, the better at it they become.
3. Trend tips
Again, if your supplier specializes in swim, then that is what they are doing all day every day. So, they are submerged in the industry. Chances are they are seeing all the newest trends long before you or anyone else. So, create a good relationship with them, and ask them for tips on what is trending.
Now remember, there is a difference between asking for trend forecasting advice and straight up copying.
For example. When I worked in kids apparel, one season I noticed that every factory, mill, and supplier I visited had something with butterflies. So, I told my sales and design teams, and we quickly developed into the trend. We didn't knock off or copy any other brand's styles. We just created our own butterfly products. And, guess what? They were top sellers a year latter when butterflies were starting to become popular.
There is nothing wrong with asking suppliers for trends like colors, cuts, etc - but it is totally unethical to knock other brands off and copy what they are doing exactly.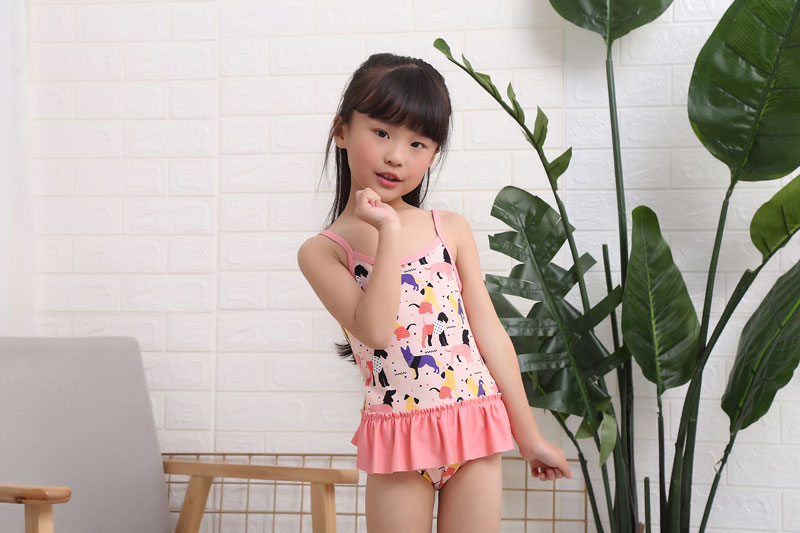 Custom high quality lovely dog print little girl swimwear
Help Finding A Swimwear Manufacturing Partner
---
Now that you understand why it's so important to have a swimwear manufacture that is all about swimwear all the time, we can get into how to find a good one.
Google
The obvious place to start is Google. But, the internet is kind of the wild west when it comes to meeting suppliers. Good SEO (showing up in search terms), and advertising dollars, does not mean a factory is going to produce good quality clothing, or deliver on time; for that matter deliver at all.
Google is a great place to start your research. But, instead of searching for suppliers, I suggest starting your search with brands. Try to find small up and coming brands, then reach out to them and ask if they would mind sharing their suppliers. A lot of brands will say no. But, a few will say yes, and they will be great resources for pre-vetted swimwear and clothing manufacturers.
Trade shows
Trade shows are a great place to meet suppliers. Generally, if you are going to one of the major trade shows that I will list here, you will be working with someone who is pretty decent.
You will find good suppliers at trade shows for two reasons.
The first is that if they have a bad rep the trade show simply won't let them into the show. The second is, they want to do a good job because if they don't you know where to find them. You don't have to fly 1/2 way across the world, you just have to show up at the trade show to see them and confront them. And, the last thing a supplier wants is a customer having a public meltdown.
Seeking help from

RUNNI
Shijiazhuang Runni Trading Co., Ltd. was founded in 2014, located in Shijiazhuang city, the capital of Hebei Province, north of China, near Beijing city and Tianjin seaport. Till now we have the Oeko tex -100, ISO9001, BSCI and SEDEX certifications, more than 50% of our productions are made by recycled quality under GRS standard. If you don't want the hassle or are afraid of still not finding a successful swimsuit manufacturer, trust Runni and contact us!