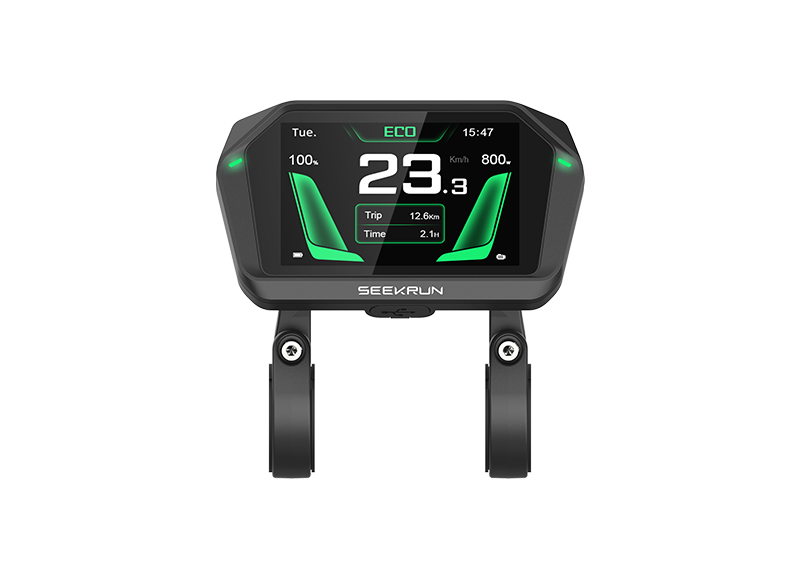 Seekrun bikes are full of technology to help you get the most from your ride, no matter what your fitness level or riding habits. One of these technologies is the seekrun bike display, and we'll cover everything you need to know about our e-bike displays and controllers.
Whether you plan to use your hybrid e-bike every day or do the occasional family bike ride, it's important to familiarise yourself with our features to get the most out of every ride.
What is an e-bike display?
You will find that most road e-bikes have a screen on the front of the bike, usually in the middle of the handlebars. This screen is essentially the brain of your e-bike and is used to display important statistics and information about your ride.
From here, you can see.
The current speed of your bike
The maximum speed of your bike
The average speed of your current cycle
Distance travelled one way
Total mileage
The remaining life of your e-bike's battery
Our display offers 2 viewing angles and a comfortable 2.4" viewing screen to act as your personal coach, pushing you to be the best you can be on every ride - or just to tell you important and interesting information about your ride.
What is the e-bike controller?
To the left of the bike screen is the controller. This clever technology allows you to quickly and easily change the information you see on the screen and, most importantly, control the level of help you get from your e-bike.
How do I control the speed of my road e-bike?
In the UK and throughout Europe, e-bikes are not legally allowed to be powered without help, unlike in the USA where they are usually powered by the throttle, just like a moped or motorbike.
In order for road bikes to remain legal in the UK, the motor on an e-bike will only start when it has power to run. This means you have to pedal to get the support of the e-bike motor.
As with a normal bike, you can use the energy you use to pedal to control the speed of the bike - the only thing to remember is to adjust the level of assist to suit your riding requirements.
Getting the most out of your road e-bike
Our road e-bike display syncs seamlessly via Bluetooth, enabling you to track your rides, measure your performance and enjoy a variety of statistics on your bike.
Once seekrun is paired with your e-bike, you will be able to view.
Speedometer
Distance meter
Bike health and status
Battery life indicator
Speed and distance history
Route data and history
Altitude and elevation data
Pedalling rate (pedalling frequency)
Trip trend graph showing speed and pedalling frequency
GPS tracking and route planning
Ability to record and view all previous routes and rides to track progress
With this information at your fingertips, you can enhance your riding from the palm of your hand.
Easy riding with seekrun e-bikes
seekrun e-bikes take cycling seriously, whatever your ability or fitness level, our electric road bikes can help you rediscover cycling, take your adventures further and enjoy more time with friends and family. We even have a free cycling recovery programme to help people who are injured or ill discover the power of our electric bikes.
For more information on our incredible electric road bikes and their features,Please contact us.